So... get this. I'm at the Central Coast Book and Author Fair on Sunday (more about that in a post next week), and guess who is ALSO there with a table FULL o' books? The lovely Wendelin Van Draanen!!!! (WHAT!) Now, I realize she's most known for FLIPPED or her Sammy Keyes series, but the book my teenage daughters recognized immediately is the book this quote above is from: THE RUNNING DREAM. Speaking of...

GUESS WHAT. Wendelin was kind enough to sign THE RUNNING DREAM, FLIPPED, and CONFESSIONS OF A SERIAL KISSER specifically to give away to one precious
Let Me Tell You A Story
winner!
HOORAY!
More about entering in a moment, but first, the blurbs:
TRD blurb:
Winner of the 2012 Schneider Family Book Award
Jessica thinks her life is over when she loses a leg in a car accident. She's not comforted by the news that she'll be able to walk with the help of a prosthetic leg. Who cares about walking when you live to run?
As she struggles to cope with crutches and a first cyborg-like prosthetic, Jessica feels oddly both in the spotlight and invisible. People who don't know what to say, act like she's not there. Which she could handle better if she weren't now keenly aware that she'd done the same thing herself to a girl with CP named Rosa. A girl who is going to tutor her through all the math she's missed. A girl who sees right into the heart of her.
With the support of family, friends, a coach, and her track teammates, Jessica may actually be able to run again. But that's not enough for her now. She doesn't just want to cross finish lines herself—she wants to take Rosa with her.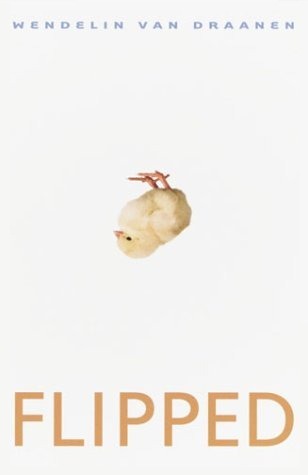 The blurb for FLIPPED:
Flipped
is a romance told in two voices. The first time Juli Baker saw Bryce Loski, she flipped. The first time Bryce saw Juli, he ran. That's pretty much the pattern for these two neighbors until the eighth grade, when, just as Juli is realizing Bryce isn't as wonderful as she thought, Bryce is starting to see that Juli is pretty amazing. How these two teens manage to see beyond the surface of things and come together makes for a comic and poignant romance.
Blurb for CONFESSIONS OF A SERIAL KISSER:
EVANGELINE LOGAN WANTS a kiss. A spectacular, heart-stopping, life changing kiss. Somehow
The Crimson Kiss
(a romance novel she's become obsessed with) and
Four Steps to Living Your Fantasy
(a self-help book she's reading) have fused in Evangeline's mind and sent her on a quest for a kiss. But the path to perfection is paved with many bad kisses—the smash mouth, the ear licker, the "misser." The phrase "I don't kiss and tell" means nothing to the boys in her school. And worse: someone starts writing her name and number on bathroom walls. And worst of all: the boy she's just kissed turns out to be her best friend's new crush. Kissing turns out to be way more complicated than the romance novels would have you believe . . .
Due to the cost of shipping, this giveaway is US only (sorry). Ends 10/11 at 11:59 p.m. PST
Make sure to add a few of her books to your Goodreads!
And now... the giveaway:
a Rafflecopter giveaway