Between receiving gift cards at Christmas and the Barnes & Noble coupons I've received in my inbox since the new year started, I've been acquiring quite a bit of
reading awesomeness
lately
!!!
Guess what I get to start reading this weekend, guys?!?!?!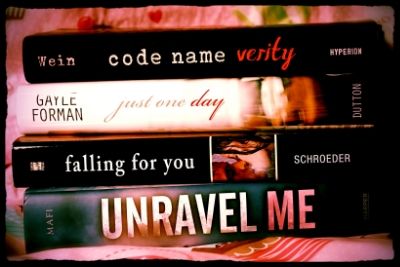 Aren't they just
perfect
for the month of February??? :D (And this isn't counting the ones I'm waiting on that haven't been released yet!)
Last night it rained. We weren't expecting it (or at least I wasn't--I don't pay much attention to the weather forecast, to be honest) and even this morning the air was misty and gray (reminded me of the coast--Monterrey, for you local readers) and I had to turn my windshield wipers on. But as the afternoon ticks on, the sun is sticking his shiny little self out more and more. I love this weather. It's *so* reading weather. And I've decided today is the perfect day to start
FALLING FOR YOU
by
Lisa Schroeder
!
Wahoo! And since two of my three daughters will be off doing school dance-y stuff tonight for a couple of hours, you know what that means... (Silent) reading BLISS!
Have a blessed weekend, everyone! (What are you reading now?)
Jessica