It's 10:58 p.m. and will officially be Wednesday in 62 minutes, but I've been wanting to do this week's TTT post because there are SO MANY books I'm looking forward to being released this spring! So. I'm going to share the releases I'm most anticipating (even though I may have already read some of these as ARCs. Hehe.)
YOUNG ADULT FICTION:
Add to
Goodreads
|
Preorder on Amazon
|
Preorder on Barnes and Noble
Janie and Micah, Micah and Janie. That's how it's been ever since elementary school, when Janie Vivien moved next door. Janie says Micah is everything she is not. Where Micah is shy, Janie is outgoing. Where Micah loves music, Janie loves art. It's the perfect friendship—as long as no one finds out about it. But then Janie goes missing and everything Micah thought he knew about his best friend is colored with doubt.
Using a nonlinear writing style and dual narrators, Amy Zhang reveals the circumstances surrounding Janie's disappearance in a second novel.
Add to
Goodreads
|
Preorder from Amazon
| Preorder from
Barnes and Noble
From the award-winning author of Better Nate Than Ever comes a laugh-out-loud sad YA debut that's a wry and winning testament to the power of old movies and new memories—one unscripted moment at a time.
Quinn Roberts is a sixteen-year-old smart aleck and Hollywood hopeful whose only worry used to be writing convincing dialogue for the movies he made with his sister Annabeth. Of course, that was all before—before Quinn stopped going to school, before his mom started sleeping on the sofa…and before Annabeth was killed in a car accident.
Enter Geoff, Quinn's best friend who insists it's time that Quinn came out—at least from hibernation. One haircut later, Geoff drags Quinn to his first college party, where instead of nursing his pain, he meets a guy—a hot one—and falls hard. What follows is an upside-down week in which Quinn begins imagining his future as a screenplay that might actually have a happily-ever-after ending—if, that is, he can finally step back into the starring role of his own life story.
Add to
Goodreads
|
Preorder from Amazon
|
Preorder from Barnes and Noble
Fourteen-year-old Oscar Dunleavy is missing, presumed dead. His bike was found at sea, out past the end of the pier, and everyone in town seems to have accepted this as a teenage tragedy. But Oscar's best friend Meg knows he isn't dead. Oscar is an optimistic and kind boy who bakes the world's best apple tarts; he would never kill himself, and Meg is going to prove it.
Through interwoven narratives, the reader learns what really happened to Oscar. His sweet life had turned sour after Meg's family moved away. Though Meg didn't know it, Oscar had a manipulative bully plaguing him with toxic humiliation. Meg must confront the painful truth of Oscar's past six months—and the possibility that he might really be gone. Surrounded by grief and confusion, she starts to put the pieces back together. With a poignant ending and memorable characters, this story of love and friendship reminds us to keep hope in our hearts.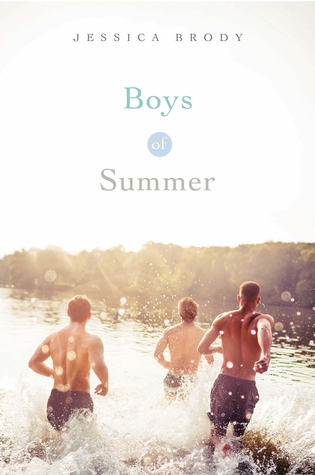 Add to
Goodreads
|
Preorder on Amazon
|
Preorder on Barnes and Noble
Welcome to Winlock Harbor…
Best friends since they were kids, Grayson, Mike, and Ian were hoping for another epic summer on "The Locks", filled with clam bakes, bonfires, and late-night swims in the ocean.
But that was before Ian's dad never returned home from his last deployment. Before Mike had to take on more responsibility in order to help provide for his family. Before Grayson's accident left him with an injured throwing arm and an uncertain future.
It's clear this summer on the island is shaping up to be very different from those Grayson, Mike, and Ian have come to rely on. And when the sacred code of dating a friend's sister or ex is broken, it will push their friendship to the absolute limit, testing their loyalties in a way that could either break them—or save them.
Add to
Goodreads
|
Preorder from Amazon
|
Preorder from Barnes and Noble
On Haven, a six-mile long, half-mile-wide stretch of barrier island, Mira Banul and her Year-Rounder friends have proudly risen to every challenge. But then a superstorm defies all predictions and devastates the island, upending all logic and stranding Mira's mother and brother on the mainland. Nothing will ever be the same. A stranger appears in the wreck of Mira's home. A friend obsessed with vanishing disappears. As the mysteries deepen, Mira must find the strength to carry on—to somehow hold her memories in place while learning to trust a radically reinvented future. Gripping and poetic, This Is the Story of You is about the beauty of nature and the power of family, about finding hope in the wake of tragedy and recovery in the face of overwhelming loss.
Add to Goodreads
|
Preorder from Amazon
|
Preorder from Barnes and Noble
When Harry Met Sally for YA romance readers. This opposites-attract love story is perfect for fans of Huntley Fitzpatrick, Stephanie Perkins, and Jenny Han.
June wants high school to end and real life to begin. Oliver is soaking up senior year's glory days. They could have coasted through high school, knowing about—but not really knowing—each other.
Except that their moms have arranged for Oliver to drive June to school. Every. Single. Day.
Suddenly these two opposites are fighting about music, life . . . pretty much everything. But love is unpredictable. When promises—and hearts—get broken, Oliver and June must figure out what really matters. And then fight for it.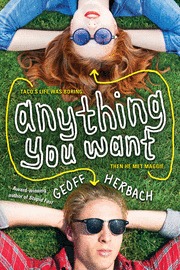 Add to
Goodreads
|
Preorder on Amazon
|
Preorder on Barnes and Noble
Expect a bundle of joy—er, trouble—in this hilarious, heartwarming story from the award-winning author of Stupid Fast Geoff Herbach
Taco's mom always said, "Today is the best day of your life, and tomorrow will be even better." That was hard to believe the day she died of cancer and when Taco's dad had to move up north for work, but he sure did believe it when Maggie Corrigan agreed to go with him to junior prom. Taco loves Maggie- even more than the tacos that earned him his nickname. And she loves him right back.
Except all that love? It gets Maggie pregnant. Everyone else may be freaking out, but Taco can't wait to have a real family again. He just has to figure out what it means to be a dad and how to pass calculus. And then there's getting Maggie's parents to like him. Because it would be so much easier for them to be together if he didn't have to climb the side of the Corrigans' house to see her...
WOMEN'S FICTION:
A wry and astute debut about a young Manhattanite whose embezzlement scam turns her into an unlikely advocate for the leagues of overeducated and underpaid assistants across the city.
Tina Fontana is the hapless but brazen thirty-year-old executive assistant to Robert Barlow, the all-powerful and commanding CEO of Titan Corp., a multinational media conglomerate. She's excellent at her job and beloved by her famous boss—but after six years of making his reservations for restaurants she'd never get into on her own and pouring his drinks from bottles that cost more than her rent, she's bored, broke, and just a bit over it all.
When a technical error with Robert's travel-and-expenses report presents Tina with the opportunity to pay off the entire balance of her student loan debt with what would essentially be pocket change for her boss, she struggles with the decision: She's always played by the rules. But it's such a relatively small amount of money for the Titan Corporation—and for her it would be a life-changer . . .
The Assistants speaks directly to a new generation of women who feel stuck and unable to get ahead playing by the rules. It will appeal to all of those who have ever asked themselves, "How is it that after all these years, we are still assistants?"
Every family has its problems. But even among the most troubled, the Plumb family stands out as spectacularly dysfunctional. Years of simmering tensions finally reach a breaking point on an unseasonably cold afternoon in New York City as Melody, Beatrice, and Jack Plumb gather to confront their charismatic and reckless older brother, Leo, freshly released from rehab. Months earlier, an inebriated Leo got behind the wheel of a car with a nineteen-year-old waitress as his passenger. The ensuing accident has endangered the Plumbs joint trust fund, "The Nest" which they are months away from finally receiving. Meant by their deceased father to be a modest mid-life supplement, the Plumb siblings have watched The Nest's value soar along with the stock market and have been counting on the money to solve a number of self-inflicted problems.
Melody, a wife and mother in an upscale suburb, has an unwieldy mortgage and looming college tuition for her twin teenage daughters. Jack, an antiques dealer, has secretly borrowed against the beach cottage he shares with his husband, Walker, to keep his store open. And Bea, a once-promising short-story writer, just can't seem to finish her overdue novel. Can Leo rescue his siblings and, by extension, the people they love? Or will everyone need to reimagine the future they've envisioned? Brought together as never before, Leo, Melody, Jack, and Beatrice must grapple with old resentments, present-day truths, and the significant emotional and financial toll of the accident, as well as finally acknowledge the choices they have made in their own lives.
This is a story about the power of family, the possibilities of friendship, the ways we depend upon one another and the ways we let one another down. In this tender, entertaining, and deftly written debut, Sweeney brings a remarkable cast of characters to life to illuminate what money does to relationships, what happens to our ambitions over the course of time, and the fraught yet unbreakable ties we share with those we love.
Marjorie Plum never meant to peak in high school. She was Queen Bee. Now, 10 years later, she's lost her sparkle. At her bleakest moment, she's surprised by renewed interest from a questionable childhood crush, and the bickering with her cranky boss—at a potentially game-changing new job—grows increasingly like flirtatious banter. Suddenly, she's faced with a choice between the life she always dreamed of and one she never thought to imagine. With the help of a precocious 11-year-old tutee, who unknowingly becomes the Ghost of Marjorie Past, and a musician roommate, who looks like a pixie and talks like the Dalai Lama, Marjorie struggles with the ultimate question: Who does she want to be? Nora Zelevansky's Will You Won't You Want Me? is a funny, often surprising, novel about growing up when you are already supposed to be grown.