Welcome back to day two of October's Reader Interview with
Kaitlin
from
Reading is My Treasure
! If you missed part one yesterday, go HERE.
Continuing yesterday's questions...
Name a secondary character you'd love to be friends with in real life:
Ric from Danielle Ellison's Salt series had a great personality, so I wouldn't mind being friends with him.
Secondary character you'd like to tell a thing or two to:
I'm not really sure if she's considered a secondary character or not, but Gerald's sister in Reality Boy by A.S. King was a horrible person. I would like to tell her what a bad sister she was.
Villain you'd love to see in real life (even if just from afar):
I wouldn't want to see any in real life, but the villain I would be most willing to see would have to be the Duchess of the Lake from The Jewel by Amy Ewing. She probably dresses well.
What is your favorite YA cover of all time? What made it so great?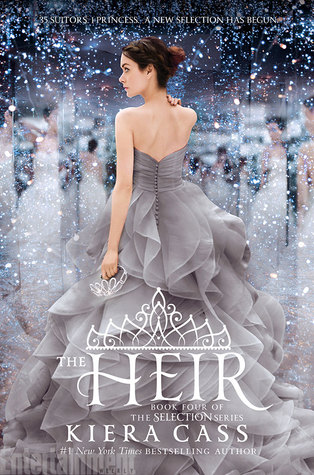 Jessica . . . that's such a hard question! There are so many amazing ones and I'm pretty sure my favorite changes at least every other day. That said, The Heir by Kiera Cass is my favorite at this very moment. It is beautiful. It's definitely my favorite of the series and I just adore it.
Nice choice! It is gorgeous!
Most recent book that made you laugh:
Loop
by Karen Akins was a really fun read. That one made me laugh quite a few times!
Name a character you'd never want to be stranded with on a desert island.
I'll pick someone from a book I recently read: Queen Levana from The Lunar Chronicles. She is definitely not a friendly character that I'd want to be around. Plus, she would most likely take control of my mind and make me do everything for her. She would be the queen of the island and I would be her own personal slave.



Strangest storyline you've read lately, and why:
I read Slaughterhouse-Five earlier this year and it was definitely a strange read, mainly because there was time travel that resulted in jumps from one time to another. There was also a lot of weird things happening in the story, like an alien abduction.



Last, being a book blogger, you're able to receive a LOT of ARCs (Advanced Reader Copies). Are there any that you're looking forward to (or really hoping to get your hands on) in the coming months?
Yes. LOTS. You know there are some seriously amazing looking books releasing in 2015, right? I'm looking forward to The Orphan Queen by Jodi Meadows, None of the Above by I.W. Gregorio , Denton's Little Deathdate by Lance Rubin, The Start of Me and You by Emery Lord, Liars, Inc. by Paula Stokes, and so many more!



Thanks so much for being here at LMTAS, Kaitlin! :D
Thank you so much for having me! :)
About Kaitlin:
I love books (of course), gorgeous book covers, polished rocks, gemstones, food, lists, and Pepsi. My current obsessions are The Vampire Diaries and Orphan Black. I spend most of my time reading, blogging, tweeting, or just looking at books. I've never been good at introductions. Connect with Kaitlin at Reading is My Treasure | Twitter | Instagram | Goodreads