It's #YASH time! Woo hoo! Welcome to the

Fall 2014 YA SCAVENGER HUNT
. On this hunt, you not only get access to exclusive content from each participating YA author, you also get their favorite number. Add up the numbers, and enter the total for a chance to win a major prize. Every team will have a winner, and that winner will receive at least one signed book from each author on that team! This means there are SIX SEPARATE GRAND PRIZES, total!!!! But play fast: this contest (and all the exclusive bonus material) will only be online until noon PST on Sunday, October 5th!
A few quick things: If you get lost for some reason, no worries--just go to this link: YA Scavenger Hunt: Stuck?
Each team AND all of the authors are listed there, so you can pick up where you left off--easy peasy! :) And, if you've never done this before but would love to participate, check out YA Scavenger Hunt: How to Hunt.
Oh yeah, and if you've already been on the hunt for a while, here's a little something to keep you going. :D ***pours you a cup o' Joe***
Like this mug?
Enter to win
it in my personal
giveaway at the
end of this post!
Directions: Somewhere below you'll see that I've listed my favorite number (in gray). Collect the favorite numbers of all the authors on TEAM INDIE, and then add them up (don't worry, you can use a calculator!).
Rules:
Open internationally. Anyone below the age of 18 should have a parent or guardian's permission to enter. To be eligible for the grand prize, you must submit the completed entry form by October 5th, at noon Pacific Time. Entries sent without the correct number or without contact information will not be considered.
And now... *drum roll please*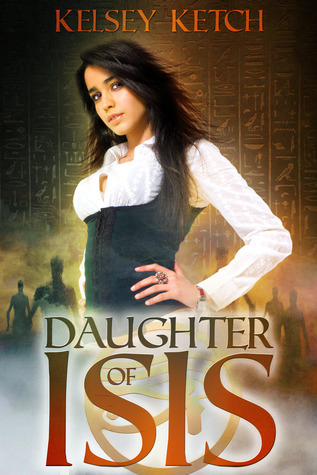 I'm very excited to be hosting Kelsey Ketch and her book,

Daughter of Isis

!
During her high school years, Kelsey Ketch could always be found tucked away in a little corner of the hall or classroom, writing her fantasy worlds and creating illustrations and maps. Today is no different, except now she's writing in the break room at her office building or at the tables of the Barnes and Noble Café in Cary, North Carolina. She is also an avid reader, a part-time book blogger at Ketch's Book Nook, and lives with her two orange tabbies and awesome and humorous flat-mate. Daughter of Isis is her debut novel.
In moving to Setemple, California, Natara Stone steps onto an emotional roller coaster ride filled with ancient Egyptian mythology, danger, and a sizzling romance that will grab you by the heart and won't let go. (Note: content for upper YA.) Here's a bonus scene from Chapter 14, in Seth's POV:
Seth paced back and forth on the service line of the tennis court, his nerves as tense as coiled springs. He kept his gaze on Natti, like a hawk; the beast inside his heart tearing up his rib cage. This was likely the last point of the game before the bell, and his last chance of preventing Natti of gaining the advantage and possibly winning the bet. There was no way he was going to lose Natti. He didn't care what he agreed to, even if he lost the game, there was no way in hell he'd let a challenge like her slip from his grasp.
He stepped into position. His knuckles popping from the death grip he had on the tennis ball. He couldn't lose this. He just couldn't.
Those private lessons better pay off.
He watched Natti's head jerk as if he had slapped her out of her thoughts. He didn't care. He threw the tennis ball into the air and slammed it into her court. Natti rushed after and used a well-executed forehand to return the tennis ball over the net. Seth charged into the game, putting all his anger and determination into every stroke. Unfortunately, Natti was besting him at every turn. It was quite beautiful, actually. Her moves were perfect, calculated, natural; like she had been rehearsing for this dance all her life. Each return bringing her one step closer to victory.
It wasn't until late in the game that Seth finally saw his opening. He sent the tennis ball spiraling toward the edge of Natti's court, opposite of where she stood and farther back. He couldn't wait to see her scramble. To watch her gorgeous figure panic and push itself to the brink for the save. Yet something wasn't right. Instead of instantly reacting as she had done with every return, she hesitated. Her body jerked while she watched the ball, clearly wanting to respond, but she was holding herself back.
She was throwing the game.
Rage burned in his chest when he watched Natti's racquet miss the tennis ball by millimeters, giving him the advantage point just as the class bell rang in the distance.
"Oh yeah!" Ky bellowed behind him.
Mrs. Kuft blew her whistle. "Mr. O'Keefe! Ms. Stone! This was supposed to be a doubles match, not a singles!"
Seth's eyes never left Natti while she leaned her palms on her knees. Her raven hair tumbled over her shoulder in twisted waves. Despite her ponytail, wild strands fluttered gently around her enchanting face.
"Sorry, Mrs. Kuft," she panted. "We just got caught up in the excitement. Seth's team won two to one, not counting our last game."
A low, threatening growl radiated from Seth's throat. His team might have won the set, but it should've been Natti who won the final point.
"I should make you both run laps." Mrs. Kuft scowled, and then sighed. "However, if we had a team, I would also sign you both up for tryouts based on that amazing display." She scratched something into her notes and stormed off.
"Oh right!" Ky cheered. "We won, which means free lunch all next week!"
Natti turned to him for the first time since the end of the game. Her glittering amethyst eyes wide. "What?"
"All bets are off," he snarled. "I saw you throw the game."
"Don't lie! You threw the game!"
"Who cares, bro?" Ky slapped Seth on the shoulder. His extra strength making Seth's knees momentarily buckle from the force. "We won."
"No! She threw the last point. All bets are off."
By the way Natti's brow crinkled and her tempting lips puckered together, Seth recognized that she was becoming very confused and agitated. Why was she fighting him on this? This was a no win situation. Neither one of them were getting what they wanted.
"Okay, so I threw the last point." Seth looked at her mouth as she spoke. A deep urge to consume it with his own building his frustrations. "You still won the doubles."
"There's no discussing this." Seth snapped at her. "I won't honor the bet."
Silence passed between them as Seth attempted to stare her down, trying to make his point of who really ran the show here. Only problem was Natti wouldn't budge. Her stubbornness obviously too great to allow her to concede. Was she serious? Did she honestly think she could challenge him? He could turn her brain into guacamole with a single touch. No matter how much she could resist him, he would eventually win.
Wanda's tiny voice suddenly broke the silence. "Uh, Natti. I'm going to head back."
"Um, me too, dude," Ky said. "Let me know how this all works out, man."
Seth nodded, but didn't bother to turn and look at his friend as he left his side. His focus was solely on Natti while she scanned the courts, waiting for them to clear before returning her attention to him.
"Why? I thought you'd at least be happy I didn't win. You can continue to annoy me all you'd like now. Isn't that what you wanted?"
Yes, but not like this. Not on her terms. "I didn't want you to throw the game. You embarrassed me in front of the whole class!"
Natti laughed. "This coming from the guy who was flirting with my partner even before the game! Besides, if I let you win, I would have been stuck with you for a day!"
It felt as if a hot poker had been rammed through his chest. "Would that have been so terrible?"
"Yes, Seth! If it meant you trying to make me into one of your tarts that line up every morning, then yes!"
Her words twisted the poker and ripped it out with his heart. His grip tightened around his racquet while he tried to keep his emotions in check. He shouldn't have felt this way. Not over a woman. He was a Son of Set, a future hem-netjer. No woman was worth this. In his world, woman were worth nothing. So why the hell was she making him feel this way?
"You want to know what's really ironic, Seth?" Natti's tone was low and haunting. "If you hadn't been trying to get your leg over with me all this time, and really tried to get to know me instead, I might have actually liked you."
A lump lodged itself into Seth's throat. But before he even had the chance to think of something—anything to say, she turned on her heel and marched away. Leaving an empty, vulnerable feeling inside his chest.
Whew! Tension much?
Kelsey's written/working on a total of

5

t
itles. Wow! You go, Kelsey! ;)
If you'd like to read more about Natti and Seth, you can find The Descendants of Isis series on Amazon and connect with Kelsey on her
website.
Exclusive YASH INTERNATIONAL GIVEAWAY:
a Rafflecopter giveaway
#JLBbirthdaybash

Bonus giveaway (US only):

I turn 36 years young this month, and Killer (the new mascot here at LMTYAS) is throwing me a birthday party!
We're giving away some pretty cool stuff, so check it out!
a Rafflecopter giveaway
For the next stop on the hunt, visit

Tamara Vann

.